Enjoy lounging around your pool again with our pool deck cleaning service.
Having a pool means being able to spend time with your loved ones, relax, and enjoy a beautiful yard. However, lounging around in the sunshine and enjoying a dip in your pool is much less appealing when your pool deck is dirty. Whether it's covered in a layer of dirt or contaminants like algae and bacteria, a filthy pool deck is not a pretty sight and can even be slippery, putting you at risk of accidents. Luckily, our team at Clean Freaks SoftWash is here to provide pool deck cleaning.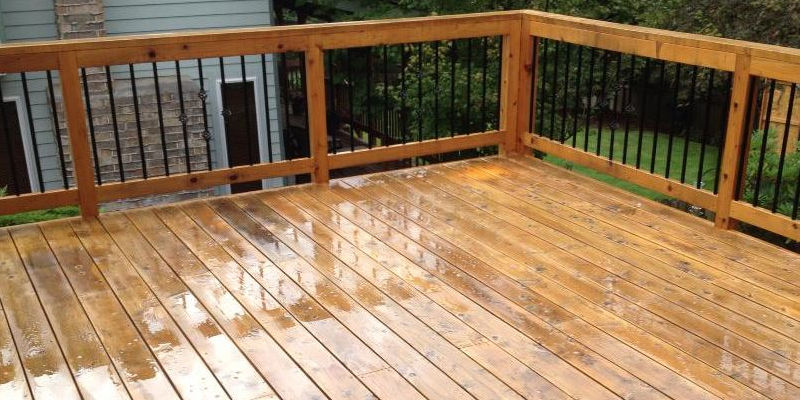 Our pool deck cleaning service is second to none. Where other companies might rely on pressure washing to clean your pool deck, potentially causing damage to its surface due to the intense pressure, we offer softwashing instead. Softwashing is a gentle alternative that relies on the power of specialized cleaning solutions to thoroughly sanitize surfaces. Our water-based softwashing solutions are biodegradable and highly effective, as they kill organic contaminants and address them at their roots instead of blasting them away with high pressure and letting the remnants grow back.
Because we use softwashing as our pool deck cleaning method, you can rest assured that we won't harm the surface material. Instead, you can enjoy results that last 4 to 6 times longer and rest easy knowing our service uses one-third the amount of water pressure washing uses.
We offer a money-back guarantee in the unlikely event that you're not satisfied with our service, and we're happy to answer your questions when you reach out to us. To learn more or schedule pool deck cleaning in Valdosta, Georgia, contact our team today.
---
At Clean Freaks SoftWash, we offer pool deck cleaning services in Valdosta, Hahira, Quitman, Lake Park, Sylvester, Ashburn, Adel, Thomasville, Nashville, Moultrie, Tifton, Albany, Boston, Dasher, Clyattville, Statenville, Ray City, Barney, Morven, Norman Park, Coolidge, Pavo, Ellenton, Omega, Lenox, Alapaha, Enigma, Chula, Ty Ty, Poulan, Berlin, Sparks, Barwick, Remington, Metcalf, Ochlocknee, Fredonia, Cecil, and Sycamore, Georgia.