Clean Freaks SoftWash Mission and Values
Our Mission at Clean Freaks SoftWash is to provide the most phenomenal service ever or your money back.
We accomplish this following our phenomenal 5 values:

1.   Reputation: Our reputation is second to none. Some of the most seasoned roofers, interior designers, and realtors refer our services exclusively. A couple of our big referral sources are C-tech Water Solutions and Window World in Valdosta.
2.   Experience: We are one of the most experienced companies in the area. We are an authorized professional company with SoftWash Systems, which has been in business for over 30 years. We will apply all of our expertise from our personal experience and the experience gained from SoftWash Systems training to your job.
3.   Education/Certification : We are an Authorized Professional SoftWash Systems in network company, Which has the most extensive SoftWashing and safety training program in the cleaning industry. Our owner and techs hold multiple certifications and receive additional training regularly. Being a Certified member of SoftWash Systems keeps us on the cutting edge so that we can pass that knowledge on to your job.
4.   Systems: We operate by the most advanced cleaning systems on the market. Our twelve-step cleaning process will give maximum cleaning and sanitizing without eroding your surfaces. Plus, we are committed to excellent service systems; Call Up, Meet Up, Clean Up, Follow Up. We are committed to showing up on time. Our technicians are uniformed and our trucks are professionally wrapped. We will be courteous and respectful to your home, children, pets and environment.
5.   Guarantee: Last but not least, we offer a 100% money back guarantee. If you are not thrilled with the service you receive from us, we will rush back to your location at no additional charge and no obligation and clean it again. If you're still not satisfied, you owe us nothing and we will issue a 100% refund.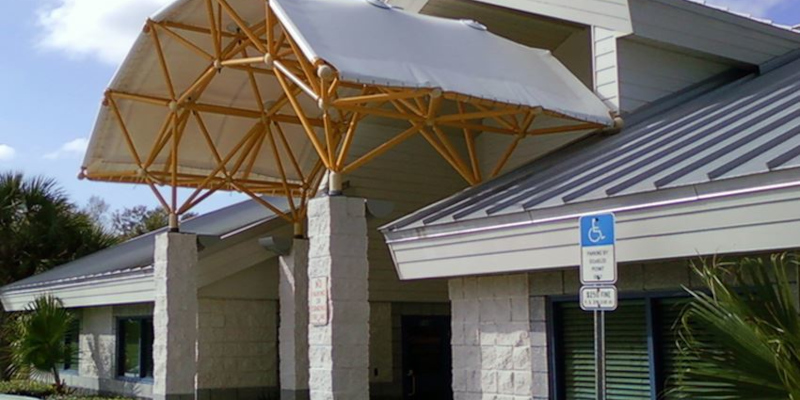 WE'RE AN AUTHORIZED, PROFESSIONAL SOFTWASH SYSTEMS COMPANY.
The safe alternative to pressure washing, softwashing uses water-based, biodegradable chemicals that emulsify dirt and grime, breaking down webs and insect nests and killing algae, mildew, and bacteria. Choose Clean Freaks SoftWash to clean your home or business, and you'll receive phenomenal service, or your money back.
Training & Certification
We participte in the cleaning industry's most extensive cleaning, soft washing, and safety training program provided by SoftWash Systems. Clean Freaks SoftWash utilizes SoftWash Systems online classes covering every aspect of the cleaning and soft washing business. Additionally, we attend SoftWash Systems Academy at their corporate offices in Orlando, Florida.
Network Support
Clean Freaks SoftWash is an independently owned company, and a Certified member of the SoftWash Systems network of companies. As an In-network company, we benefit from and contribute to, the nationwide, experiences of over 100 companies from the ProStaff veteran to the newly certified owner/operator. SoftWash Systems, Pro Staff members interact with in-network companies daily, guiding them through business procedures as well as how to tackle larger projects. They communicate through online and phone support, attending SoftWash Systems training events and camps, speaking at industry shows and meetings as well as testing and troubleshooting new products.
Our Pledge to the Environment
Clean Freaks SoftWash is not a new "GREEN" company. We have always had a strong commitment to the environment. Our network's core values place stewardship and service above profits. We believe that profits will come as we focus on doing business in a way that honors our values. This is our "world is round" mindset and "we reap what we sow" is in our moral fiber. Our pledge to passing on a clean, healthy environment is what we have deemed as our Good Stewards program. As Good Stewards, Clean Freaks SoftWash believes and practices protocols and standards that are for more than just compliance. We wholeheartedly understand we are stewards of the resources we have been entrusted with. You as a customer of Clean Freaks SoftWash entrust us with your property and we respect that. That respect also transfers to the land, water, and air surrounding your property.
Biodegradable
All SoftWash Systems cleaners are designed to be biodegradable. Biodegradable means they breakdown in to carbon and water within 20 days of their introduction into the environment. Our desire is that the only thing we leave behind is a clean, sanitized surface.
Low VOC
VOC's (Volatile Organic Compounds) are particles in the air containing hazardous compunds that threaten public health. Our cleaning process and chemicals comform to the California Air Quality Management District standard and do not release harmful VOC's.
Non-Hazardous
All SoftWash Systems' cleaners are non-hazardous when mixed according to label instructions. Clean Freaks SoftWash are not reqired to carry any special licensing or endorsements and our products require no special handling or storage precautions.
Fossil Fuel Free
Clean Freaks SoftWash strives to make sure that we follow the theology of using as little fossil fuel based energy as possible. We leverage the latest technology in 12-volt powered equipment utilizing both solar and DC charging systems. With SoftWash Systems equipment you will rarely see us pull a cord or turn a key to start a fossil fuel powered cleaning machine.
Water Based
Water is one of the purest things on Earth. That is why SoftWash Systems cleaners are water based. Our cleaners contain no harmful solvents or phosphates which are threatening the ecology of our environment.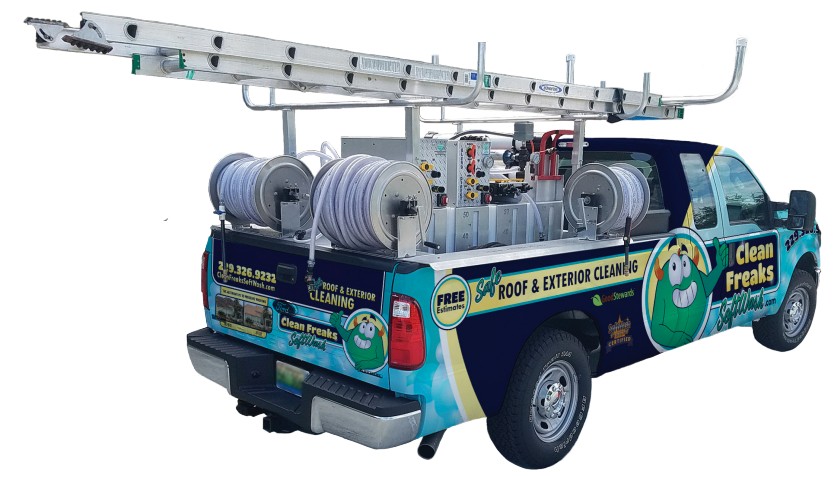 Revolutionary Design
Clean Freaks SoftWash is always investing in the latest technology innovated by SoftWash Systems. Under the leadership of our founder AC Lockyer, we have been able to address the concerns of owners cleaning and protecting their properties. We have done so not only through education and business systems but also through the development of equipment that is easy to use, maintain, and does not waste water or other resources. Our Blend Module Technology plays a major role in this.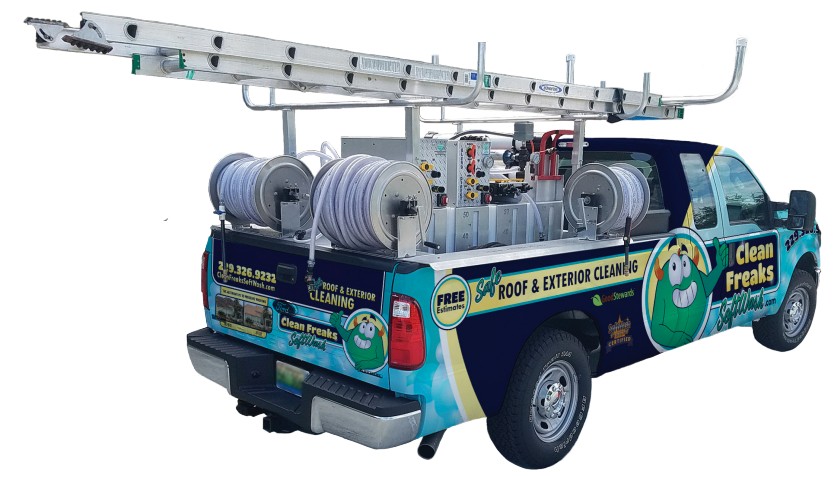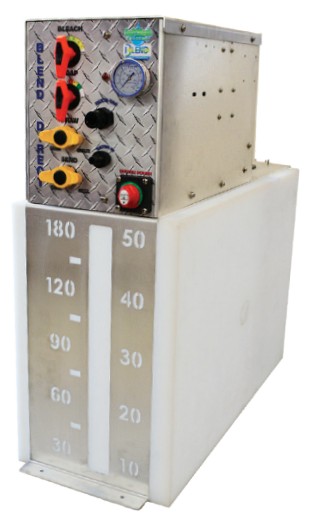 The Evolution of Blend Technology
SoftWash Systems Blend Technology is not to be confused with pressure washing or downstream injection. This Blend technology keeps overuse of chemicals and water to a minimum over traditional one batching methods. Where our Blend technology shines is that no matter how far away from your truck you go and no matter how high up you clean, our Blend Module continuously operates at the same draw rates.
A Legacy to Uphold
Our founder AC Lockyer pioneered the soft wash industry. We have a responsibility to lead and innovate. We have a resopnsibility to provide the tools for our employees to succeed. Our legacy fulfilled would be to one day look back and see that our company created opportunities in faith, family, hope and community, supporting our patrons and employees.
A Legacy to Uphold
Our founder AC Lockyer pioneered the soft wash industry. We have a responsibility to lead and innovate. We have a resopnsibility to provide the tools for our employees to succeed. Our legacy fulfilled would be to one day look back and see that our company created opportunities in faith, family, hope and community, supporting our patrons and employees.
It is our practice and policy when it comes to plant protection for our team members to follow what we call the three "D's" of plant protection; Dilute, Divert and Decontaminate. We do everything in our power while we are at your residence following these principles.
Dilute
: watering the plants and shrubs before during and after treatment.
Divert
: When there is the opportunity, we like to catch the run off from roofs and from gutter down spouts in a bucket or other containment tools to prevent the chemicals from reaching the plants.
Decontaminate
: After the treatment process we spray Plant Wash which is a PH balancer to neutralize the chemicals. Plant Wash is also a Nitrogen Based Fertilizer that places a buffer on the leaves of the plants and shrubs.
You can help protect your plants and shrubs. If you have a sprinkler system, please turn on the zones near the home and drives for at least 20 minutes per zone at least one day prior to treatment and for at least three days after cleaning. This practice greatly helps the plants which we so love to protect.
If after our treatment a plant looks sickly or dies, please let us know within 30 days of the treatment. We will then return to your home and do everything we can to nurture the plant to health. If the plant or shrub still dies, we will be happy to replace your plant using the licensed landscape vendor of our choice. This offer is not guaranteed if notified after the 30-day time period.
Sincerely,
Justin Revels
President
Clean Freaks Soft Wash LLC