Our trained and experienced technicians recommend softwashing for various commercial needs.
When you're responsible for a commercial facility, it's important to keep up with tasks that maintain its appearance. You might hire a professional landscaping company to keep the grass and shrubbery under control, as well as invest in cleaning services to ensure the interior is always inviting. But the look of the building's exterior can also play a role in the first impression of those who visit it.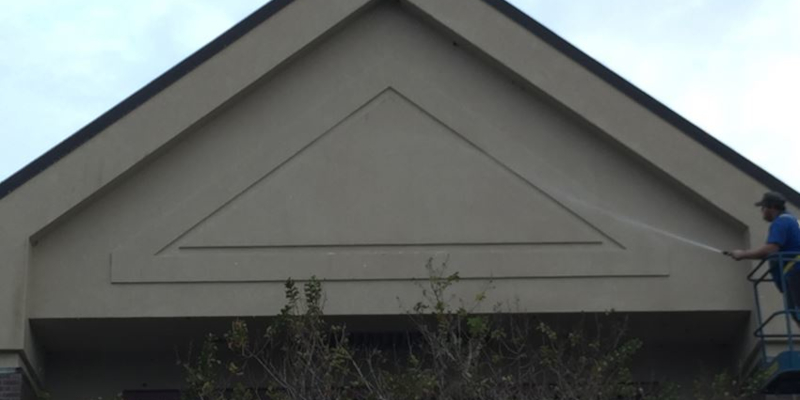 If a potential client comes to an office or retail store, only to find that the outside walls look grimy and unkempt, they may not feel the desire to come inside. By partnering with our team at Clean Freaks SoftWash for commercial washing services, you can feel confident that your Tifton, Georgia structure always looks its best.
We provide softwashing, a gentle yet effective method that works on all types of surfaces. Our trained and experienced technicians recommend softwashing for various commercial needs. We can perform it on roofing materials, exterior walls, windows, driveways, and gutters. The process utilizes a low volume of water pressure combined with biodegradable chemicals that remove more than just visible dirt and grime. Softwashing also removes microbes, ensuring a clean and sanitized surface with results that last four to six times longer than other commercial washing methods.
You can feel confident when hiring us for commercial washing services, as we're part of the Ask the Seal program. Our technicians undergo background checks and are fully licensed and insured to perform this service. If you're ready to improve the cleanliness of your structure, contact us to schedule a commercial washing service.
---
At Clean Freaks SoftWash, we offer commercial washing services in Valdosta, Hahira, Quitman, Lake Park, Sylvester, Ashburn, Adel, Thomasville, Nashville, Moultrie, Tifton, Albany, Boston, Dasher, Clyattville, Statenville, Ray City, Barney, Morven, Norman Park, Coolidge, Pavo, Ellenton, Omega, Lenox, Alapaha, Enigma, Chula, Ty Ty, Poulan, Berlin, Sparks, Barwick, Remington, Metcalf, Ochlocknee, Fredonia, Cecil, and Sycamore, Georgia.
Similar Services We Offer: